Prague is a top pick amongst travellers on the dates of Meeting. Hotel prices are higher as usual. Due to high season all hotels mentioned below are on request only, but we try to find another suitable hotel for you also if hotels mentioned below are fully booked.
You can send your room order at the same time with online registration for the Meeting, but also later (in this case use the link mentioned in the confirmation email of your registration or email required information to terezia.nemcova@fs.cvut.cz).
The price of the accommodation includes bed, breakfast in buffet style, WiFi, VAT and city charges.

The prices are valid only when the order is sent to the CTU Prague Meeting Secretariat (not to the hotel).

Please note: although the rates quoted are discounted we cannot guarantee that the offered rates are the cheapest available as hotels have special promotions on from time to time.
5 stars hotels are available on your request – do not hesitate to ask CTU Prague Meeting Secretariat for the offer by e-mail.
LIST OF HOTELS – see map
DAP 3* – book here
ca. 6 min (515 m) walk to the venue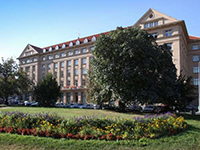 Vítězné náměstí 4/684, Praha 6 – Dejvice
GPS: 50°5'58.571″N, 14°23'41.964″E
single – 50 EUR (non-refundable 35 EUR)
double – single use – 65 EUR (non-refundable 45 EUR)
double/twin – 85 EUR (non-refundable 60 EUR)
MEDA 4* – book here
ca. 7 min (635 m) walk to the venue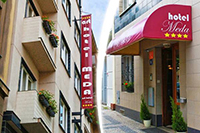 Národní obrany 33, Praha 6 – Bubeneč
GPS: 50°6'4.105″N, 14°23'51.249″E

single – 60 EUR (non-refundable 45 EUR)
double/twin – 90 EUR (non-refundable 65 EUR)
Notice: For the nights Fri-Sat & Sat-Sun the additional fee of EUR 10 is required

International Prague 4* – book here
ca. 10 min (815 m) walk to the venue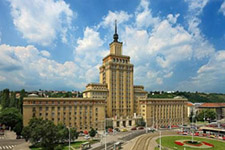 Koulova 15,Praha 6 – Bubeneč
GPS: 50°6'33.979″N, 14°23'35.086″E
single/double STANDARD – 95 EUR (80 non-refundable)
DIPLOMAT 4* – book here
ca. 6 min (555 m) walk to the venue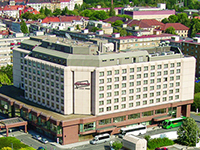 Evropská 15, Praha 6 – Dejvice
GPS: 50°5'58.733″N, 14°23'23.399″E
single SUPERIOR – 100 EUR (non-refundable 83 EUR)
double SUPERIOR – 110 EUR (non-refundable 90 EUR)


The price also includes: free entry to the fitness & discounts: 20% on laundry, 10% on parking, 10% on F&B services excluding minibar (one voucher per day)
Novoměstský hotel 3* – book here
ca. 25 min – ca. 6 min on foot to the metro station "Můstek (565 m)", then 10 min by metro line A
to "Dejvická" station – exit "Evropská – Šolínova", then ca. 5 min on foot (340 m)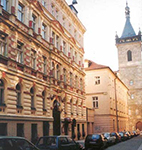 Řeznická 4, Praha 1 – Nové Město
GPS: 50°4'40.840″N, 14°25'20.169″E
single – 65 EUR (non-refundable 60 EUR)
double – 80 EUR (non-refundable 75 EUR)

Central Hotel Praha 3* – book here
ca. 30 min – ca. 5 min on foot to the tram stop "Náměstí Republiky" or "Dlouhá třída", 13 min ride by tram No. 8 or 26 to "Vítězné náměstí" stop, then ca. 8 min walk to the venue or
by metro 15 min ride from "Náměstí Republiky" to "Dejvická" station – yelow line B change to the green line A at "Můstek" station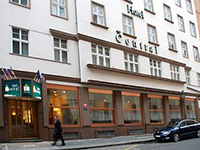 Rybná 677 / 8
Praha 1 – Staré Město
GPS: 50°5'19.398″N, 14°25'34.575″E
single – 95 EUR (non-refundable 75 EUR)
double – 105 EUR (non-refundable 85 EUR)
Notice:
this prices are valid for the period 29 May – 02 June, the prices for night 28 – 29 May on request